Mid-Day Dance Break
All Ages • Perry Square • Noon to 1 p.m. 
Thursdays in June through August 
See schedule below
Crime Victim Center (CVC) is pleased to once again to pair with Jennifer Dennehy to bring the interactive art series "Mid-Day Dance Break" (MDDB) to downtown Erie this summer.  MDDB will bring dance and art into the community, providing a more holistic viewpoint of how the community can enriched with themes of empowerment and fun. 
Sessions begin with a brief discussion of the week's empowerment topic followed by a performance from either the Lake Effect Hoop Troop or a featured guest artist.
The weekly topics can include:
Beauty from Within

Finding Strength 

Self-Care

Self-Esteem

Growth

Standing Up for Yourself and Others

Progressing Through Obstacles 

Community Connectedness
MDDB will feature a weekly visual artist w ho will create a piece inspired by the weekly theme.  The artist will use different mediums to work on the piece throughout the session, which will later be displayed for sale in gallery format at CVC.  The proceeds will be split between the artist and the project's revenue. 
An established group of amateur artists from CVC's Creative Healing Group will contribute to the gallery with art inspired by MDDB.
After each session, attendees will be encourage to join in a dance workshop, where they will be given information about the week's artist and theme, as well as the project as a whole and the CVC's free services.
Questions can be directed to Amy at CVC at amyb@cvcerie.org or 814-455-9414.  
Check out Mid-Day Dance Break on Facebook!
CVC is a Participating Venue for Erie Art Museum's Gallery Night on Saturday, September 17, 2022.
This exhibit will feature art from various artists that participated in our weekly Mid-Day Dance Breaks in Perry Square. You can also enjoy a short video presentation of the participating performers. Then, we encourage you to walk the halls of Crime Victim Center of Erie County to see our client art displays and you will see how healing happens here. Light refreshments will be available along with a raffle for a donated art piece. Questions can be directed to Angie at CVC at angie.devine@cvcerie.org or 814-455-9414.  
See below for a full schedule!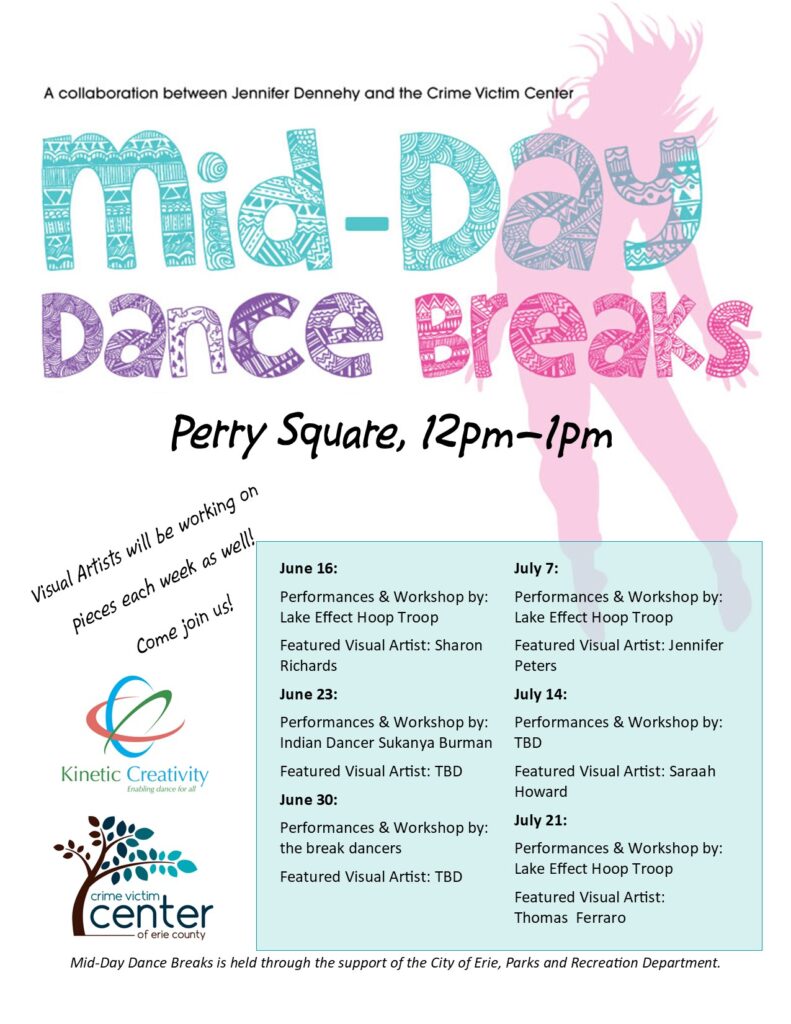 2023 schedule will be updated soon